Schulz & Toffan Invited to Baseball Canada National Junior Team Tryout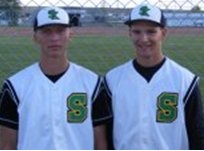 Baseball Canada announced the preliminary roster of players that will travel to St. Petersburg, FL in March as part of the Junior National Team's Spring Training Alumni Week. Additional players could be named to the roster at a later date.  Jager Toffan a member of the Regina Wolfpack and Jordan Schulz of the Regina Athletics were named.
The schedule also features a match-up with the Philadelphia Phillies and two games against the Netherlands who recently captured the IBAF World Cup in Panama. Rounding out the schedule will be a two game set with St. Petersburg Junior College and two games against yet to be determined opponent(s).