About the Winterball Program
Sask Baseball is looking to partner with elementary schools for our exciting Winterball program. Winterball is an exciting, fun way for children to be exposed to the game of baseball.
Winterball is a school-based baseball curriculum for students between the Grades of 3 and 6. This program is completely turn-key in approach and can be administered to P.E. classes immediately. We are currently looking for schools throughout the province that are interested in offering Winterball to their students.
By partnering with the Sask Baseball and adding Winterball to your curriculum, we are prepared to offer you an entire set of Winterball equipment as well as Instructor Manuals! The Winterball package has a retail value of well over $350 dollars and contains equipment that can be used for a variety of activities.
If you are interested in adding this fun, developmental program to your school or class please take a moment to review the information below and click the link to register at the end of this page.
Don't delay. There is a limited number of kits that we can give out. Apply today!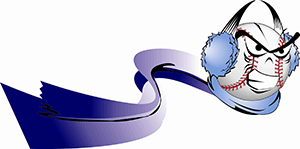 The Concept
WinterBall is a program designed to attract new participants to the sport of baseball. This program is targeted primarily at elementary schools throughout Canada with possible application to community centers, local recreation departments, and boys and girls clubs across the province.
The main focus of the program is to introduce the basic fundamental skills of the game, in a fun, non-competitive manner, providing a positive learning experience for all participants.
WinterBall is designed for students in Grades 3 – 6 (ages 8-12) as an introductory program that will progress through nine different lesson plans containing different activities. To ensure students are being taught skills at an appropriate skill and ability level, there are a set of lessons for grades 3 and 4 as well as another set for students in grades 5 and 6.
WinterBall is designed to fit easily with the current curriculum outlined by the Ministry of Education, ensuring the activities being taught are outcome (expectations) based and measurable. The program is designed to be completely turn-key including: complete lesson plans with warm-up activities, games to introduce skill techniques, cool down activities, teaching tips, diagrams, and a glossary of terms. The teacher's manual includes gender-neutral terminology and is designed to fit within the guidelines of the education system.
The program has components included to educate teachers, students and parents about the value of creating a positive sporting experience for children and the importance of sport in the community.
Over the past few years, participation in baseball at all levels in Canada has been decreasing. In surveys conducted by the Ontario Baseball Association over the past four years there have been a number of factors identified as contributing to the overall decline in registration. Such things as coaching expertise, program availability, length of schedule, and skill development are all points that have been raised by youngsters who have played organized baseball and are not now involved. Baseball Canada has taken significant steps in addressing these areas by introducing new programs and increasing communication.
Sporting activities of any kind, including recreational pursuits, require movement skills that are almost universally the same. With this in mind, Sask Baseball has adopted a program developed through Baseball Canada that will allow these movement skills to be presented to youngsters in a school program using baseball equipment, terminology and games.
The goal of this program is to introduce baseball in a recreational non-competitive environment where youngsters have fun and attain success by performing skills. Once a student realizes that, he/she is able to perform the fundamentals of baseball, we believe that there will be interest in playing the game within a local organized baseball association.
Why WinterBall?
With reduced government spending on education, and a decrease in class planning time for teachers, schools are forced to look for programs that are turn-key in their delivery system and are new and exciting for students. It is important that the program builds life skills and provides added benefit to both students and society. Baseball is a sport with no economic barriers and may be enjoyed for many generations regardless of social status. The sport of baseball is easily adaptable to almost any setting, including indoors, and can meet all of the requirements of the educational system. By introducing baseball to a mass audience in a controlled setting there will be maximum exposure gained in a minimum amount of time.
To Whom?
The target audience of this program are students in grades 3, 4, 5 and 6. (Ages 8 – 12)
Goals and Objectives
To promote an active healthy lifestyle and encourage children to participate in sport.
To introduce baseball skills through an exciting and fun program.
To increase participation in the sport of baseball locally, provincially and eventually nationally.
To teach the fundamentals of the game in a non-competitive environment that will provide children with the fun sport experience inclusive to all, regardless of sex or physical ability.
To provide equal access to both male and female students.
To create an adaptable program that can be offered by local community groups and municipal recreation programs as well.
The Plan
Program Content:
Turn-key lesson plans that may be delivered by a teacher to a class in a gymnasium with very little planning and preparation time.
Sufficient equipment that is very safe and will enable all lessons to be carried out.
There is a student Guide Book that is to be taken home by the students. Book includes drills and games that can be played along with local baseball association contact information. Rules of fair play etc.
Lesson plans contained in a Teachers Manual are aimed at grades 3 and 4 together and grades 5 and 6 together. Each lesson will include an introduction to the lesson, a warm up section, entry-level activities, skill development activities, a game and a cooling down procedure.
The program includes an individual game called WinterBall that can be used as an Intramural activity on its' own.
There is an Introductory Manual that outlines the program, utilized by the co-coordinator on introductory visits.