Keeping Sport Healthy, Safe and Fun
Baseball Sask and Sask Sport strive to make sport in Saskatchewan as safe as possible and welcoming for all participants. Keeping sport healthy, safe and fun has been a priority for decades and we actively work with our membership and partners to fulfill that goal.
There are many practices, policies and resources available that assist with bullying, abuse, harassment, discrimination, maltreatment and conflict in sport.
Baseball Canada Safe Sport
Baseball Canada recognizes its responsibility to foster environments that ensure positive, healthy, and fulfilling experiences. By prioritizing the welfare, safety, and rights of our members, Baseball Canada is able to demonstrate our ongoing commitment to address the needs of the baseball community in relation to safety in sport.
https://www.baseball.ca/safesport 
Resources
Respect in Sport for Activity Leaders
Baseball Sask Dispute Resolution Policy
Baseball Sask Social Media Policy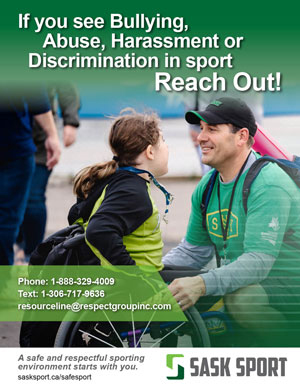 Sask Sport Respect Support Line
Sask Sport has a Respect Resource Line available that provides free, confidential and anonymous assistance to calls, texts or email inquiries regarding possible bullying, abuse, harassment or discrimination in sport.
TOLL FREE 1-888-329-4009
TEXT 1-306-717-9636
help@resourceline.ca