REGINA TO HOST 2011 BASEBALL CANADA
MIDGET AAA CHAMPIONSHIP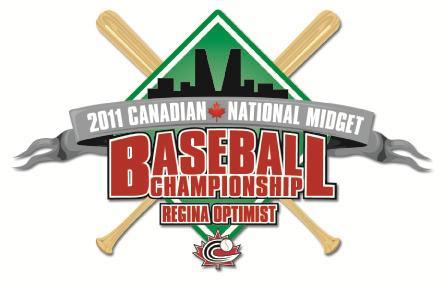 Regina Optimist Baseball will be hosting the 2011 Baseball Canada Midget Nationals from August 17-22. This will be the first time in close to 20 years that the City of Regina has hosted a minor baseball National Championship of this calibre.
The tournament for 16 to 18 year olds will feature teams from Alberta, British Columbia, Manitoba, New Brunswick, Nova Scotia, Quebec, Ontario and Newfoundland. Two teams will also represent Saskatchewan. The Baseball Regina Midget AAA Champion (determined by a Zone Playoff) as well as the Sask Baseball Midget AAA Provincial Champion.
The National Midget Championship brings together Canada's best young baseball players and draws scouts from numerous Major League teams as well as college and university scouts from throughout Canada and the United States.
Games will be played at both Optimist Park and Currie Field. The teams will be housed at the University of Regina.
For more information contact:

Cas Pielak
Tournament Chairman
525-4622 or 536-5340
cpielak@sasktel.net
OR
Mike Ramage
Executive Director
Sask Baseball
780-9237
mike@saskbaseball.ca