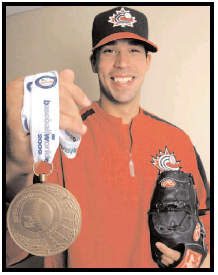 MOLLEKEN HELPS CANADA WIN BRONZE
Article by IAN HAMILTON – Leader Post
Photo courtesy DON HEALY
Dustin Molleken came back from the 2009 Baseball World Cup with a bronze medal, a sense of national pride, a pile of confidence … and a newfound hatred for pasta.
"I'm sick of eating that Italian food," says a chuckling Molleken, a 25-year-old Reginan who helped Canada post a 6-2 victory over Puerto Rico in Saturday's bronze medal game in Grosseto, Italy. "All we ate was baked lasagna and pasta."
Molleken, a pitcher in the Pittsburgh Pirates' organization, got the call in June to play for the Canadian team in the Baseball World Cup. He had played for Canada at a world junior championship in 2002, so he knew what it was like to wear the maple leaf in competition — and he was honoured to do it again.
"It's surreal," he says. "Every time I put on the jersey, it gave me shivers. I took so much pride to have on that jersey."
Canada went 3-0 in the first round, a four-team round-robin pool, which was contested in Stockholm, Sweden. In the second round, held in cities around Italy, the Canadians lost their first two games before rattling off five straight wins to move on to the third round.
Again competing in Italian centres, Canada won its first three games before falling to Cuba in a semifinal. That put the Canadians in the bronze-medal game, and they came out of that contest with their best finish ever in the event.
"(The medal) is huge!" says Molleken, who threw two scoreless innings in that contest. "It's heavy, too. It feels like it's about six pounds."
The 6-foot-4, 230-pound right-hander certainly pulled his weight in the tournament. Coming out of the bullpen, he surrendered no runs and seven hits over 11 innings of work.
"I just did my best," he says. "All of my off-season training showed. I threw really well.
"(Team officials) were always happy and said, 'You did an outstanding job for us.' That pumps you up a little bit. It's great to hear that."
He's hoping the Pirates heard about him, too.
Molleken — who split the 2009 season between two of Pittsburgh's farm teams, the Class A Lynchburg (Va.) Hill Cats and the Double-A Altoona (Pa.) Curve — is looking for a new contract.
"I just hope to open up some more doors in the organization," says Molleken, whom the Pirates selected in the 15th round (435th overall) of the 2003 MLB draft. "Now I'm a free agent, so this could help me resign with those guys or sign with someone else." He's hoping for the former. "I'm happy with the Pirates," he continues. "I'm also happy in Double A because (major-league teams) are always taking guys up out of Double A. Guys in Triple A are usually older guys who have been up and down over the years. The guys in Double A are the top prospects."
Molleken says he has had "some up-and down years" since starting down the road to the majors. He missed about 18 months of action after having Tommy John surgery in 2004 and a flare up in his right elbow in '05.
Since then, though, things have been looking up. He says the speed of his fastball increased after the surgery — from a range of 88 to 92 miles per hour to its current range of 92 to 96 mph — and his sinker, changeup and slider also have improved.
"Since '06, everything has taken off," says Molleken, who suggests part of the reason is because he "grew up" in recent years. "I've also been healthy — and just getting at 'er."