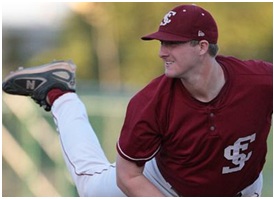 Cory Hall (Santa Clara D1) baseball team was honored by the West Coast conference for his play this season on Wednesday. A senior RHP Cory Hall, was named to the 2011 All-West Coast Conference First Team.
Hall (4-7; 3.26 ERA) had a break-out season for the Broncos. After being a bullpen pitcher during his first two seasons, Hall became the team's Friday night starter. Hall averaged seven innings per start, pitching 105 innings in 15 starts. Santa Clara's ace fanned 80 batters, including a season-high 11 against Brown on March 26.  He posted two complete games, including a two-run nine-inning effort at Saint Mary's on Apr. 15. Hall continually left the Broncos with a chance to win, picking up no-decisions that the Broncos later won including a two-run no-decision at Pepperdine on May 6.
Also, Sask Baseball would like to send out a huge CONGRATULATIONS to Cory for recently being signed by the Kansas City Royals! Way to go Cory. We hope to see you pitching in the Big Leagues soon.