Would you like to host a 2023 Baseball Sask Provincial Championship in your community?
Now is your chance to submit a Bid to Host.
**Preference will be given to communities that also host Umpire Clinics and have adequate certified umpires in the area.
For more details, please see links below:
Bids to Host can be forwarded for Mike Ramage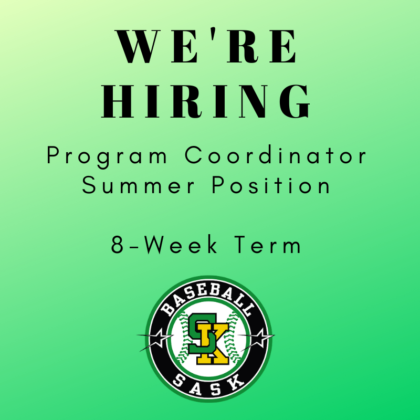 Baseball Sask will be hiring a new Spring/Summer employee to serve as our Program Coordinator.
We are looking for a candidate that has a background in the sport of baseball as this knowledge will be required.
This position will be an 8-Week term running from approximately May 29, 2023 to July 28, 2023.
Please click below for more details:
The deadline for submitting a nomination into the Saskatchewan Baseball Hall of Fame [SBHF] is March 15, 2023.
Your help is needed for nominations of Individuals. Teams, Families and Communities. Attached is a nomination form and instructional sheet for preparing a submission. If you have any questions, please email  <saskbaseballmuseum@sasktel.net>  or call 306-446-1983 or 305-441-5886.
This is where you can play a very necessary and important role in helping keep our Saskatchewan baseball history that starts with the collection of the baseball careers of individuals, teams, families and communities. This is the backbone of our organization! Please call if you have any questions.
The history dating back to 1879 has been recorded in the annual Saskatchewan Historical Baseball Review. The reviews 1984 to 1998 are printed and bound in a paperback book size 5.25" x 8". The years 2012, 2013, 2014, 2015, 2016, 2017 and 2018 are printed on a 8.50" x 11", with some coloured pictures. The remaining years are in the process of being prepared for publication. It has been necessary to find funding for these but we are slowly catching up on the remaining years. The years 1984 through 1998 reviews are always available for purchase for a price of $10.00 each plus shipping. The newer spiral bound 8.50" x 11" reviews are $20.00 each plus shipping. These are of great value for keeping alive those baseball memories for both the young and old!
I am looking forward to hearing from you and your help in this quest!
Yours in baseball,
Jane F. Shury
President / CEO
Saskatchewan Baseball Hall of Fame & Museum
saskbaseballmuseum@sasktel.net
306-446-1983
A scholarship fund has been set aside through donations in memory of Brennan Luffman who was a prominent left handed pitcher and outfielder with Team Saskatchewan from 2003 – 2005.   Brennan Luffman was a popular teammate among his peers and well liked by his coaches.
This scholarship will be awarded annually until funding has run out. Applicants for the scholarship will be collected by the Baseball Sask office and reviewed by the Luffman family.
Deadline to apply will be January 31, 2023.
Mel Murray, Baseball Sask Past-President and dedicated volunteer, has received the Western Canada Baseball Life Member Award. Mel Murray has been an essential member of Baseball Saskatchewan for over 37 years, both locally & provincially, and is well deserving of this honour. All of us at Baseball Manitoba want to congratulate him on this achievement!
In 1985, Mel was elected President of Estevan Minor Baseball and remained in this position until he resigned in 2008. His dedication and passion for the game was obvious during his time with the organization, and he contributed under many different titles, such as a coach, Executive Member, volunteer, and more.
His first experience coaching was with his son's T-ball team. He then formed his first Mosquito travelling team and continued coaching through to the 18U division as well as coaching house ball.
In 1994, the Estevan Prairie Coal Haulers 13U team won Provincials and went on to participate in Nationals in North Bay, Ontario. The Estevan team representing Saskatchewan placed 4th overall – a very impressive standing. Three seasons later in 1997, Mel's Estevan 15U team won Provincials and again were on their way to compete at the National Championship which once again was being held in North Bay, Ontario. A repeat performance from 1994 earned the team an impressive 4th overall standing.
After completing the 18U term with his son's team in 2000, Mel made the decision to return to the Mosquito level and began developing another travelling team as well as coaching house ball all while acting as the President of Minor Baseball in Estevan.
In 2003, Mel's team, the Estevan Luscar 13U Haulers, won their way at Provincials to represent Saskatchewan at the Western Canada Championships which were held in Altona, Manitoba. They placed 2nd overall and were the recipients of the Silver Medal. In 2005, Mel coached the Estevan 15U AAA Haulers to a Provincial victory and onto the 2005 15U Nationals held in Windsor, Ontario placing 9th overall.
In 2008, Mel submitted a successful bid to host the 2008 Western Canada Championships for both 15U & 18U divisions. He coached the 18U team to the ultimate victory of a Gold medal.
Throughout his coaching career, he has also been a major organizer in developing ball diamonds in Estevan. Proactively, Mel took action and was instrumental in resurrecting Estevan Minor Baseball and its facilities, beginning the conversation when he noticed areas that needed improvements. Below is a list of facilities that received upgrades and the projects he was involved with:
Estevan Luscar Park  
Construction of eight new diamonds complete with shale infields
Installation of fencing on all diamonds
Installation of underground sprinklers on all diamonds
Construction of paved walk path around and throughout ball diamonds
Construction of concession/storage/bathroom facilities
Construction of a playground within the ballpark
Construction of sodded picnic area
Construction of two batting cages
Construction of two sound booths with storage
Installation of four electronic score clocks
Installation of phone service and electrical service at the park
Construction of a new road to the ballpark for easier access
Construction of three soccer fields within Luscar Park to provide alternate sports to all of Estevan
Construction of access gates into Luscar Park
Planting of 500 trees around ball diamonds
Lynn Prime Park – 15U Diamonds
Construction of new dugouts
Construction of new backstop
Installation of underground sprinklers
Revamping the existing infield
Lynn Prime Park – 18U Diamond 
Developed a new grass infield
Installation of completely fenced-in diamond and bullpens
Installation of underground sprinklers, dugouts, and batting cages
Construction of sound booths w/storage
Construction of concession and dressing rooms
He also served 12 years with the Parks & Recreation Association in Estevan and during this time was appointed Chairman of the Board for a term of six years. In 1994, he was the recipient of the Merit Award by S.P.R.A. for his contribution to the development of parks & recreation in Saskatchewan, and In 1997 he was awarded the Southeast Saskatchewan Volunteer in Sports Award. Mel went on to also capture the Builder of the Year Award from Saskatchewan Baseball in 2002. This award represented the many hours spent planning, developing and achieving the impressive baseball facility in Estevan. Mel received the Manager of the Year award in 2005 and was inducted into the Saskatchewan Baseball Hall of Fame in 2006.
He promoted contributors, both financial and volunteer-based, to become involved. His efforts were successful, and various companies sponsored house teams by providing them with uniforms & equipment. Mel also found sponsors for all the travelling teams from Mosquito to 18U levels.
His time with the Estevan Minor Baseball Executive Committee took place over a number of years. He served as a director of various divisions and his leadership built a strong association in Estevan and the surrounding area. With his hard work and dedication, Estevan Minor Baseball quickly became a very reputable and admired association within both the community and the province. He was the main organizer for numerous Provincial Championships held in Estevan for all levels.
On top of coaching and field maintenance, he also organized countless events, such as clinics and tournaments, both locally and provincially.
Locally, Mel organized and hosted many provincials in Estevan throughout the years as well as Western Canada Championships. Through his leadership, he was able to build an impressive group of volunteers in order to successfully host various events, which was and still is an incredibly valuable asset for the organization.
On a provincial level, Mel was involved with Saskatchewan Baseball as a director of various divisions throughout the years as well as Vice President, President, and then Past President. He established good working relationships with all members of Saskatchewan Baseball and effectively used his leadership qualities in the best interest of all involved and for the game of baseball. In 2003 Mel submitted his bid proposal to host the 2004 Western Canada Championships for 13U boys, 13U girls and 15U boys and with a successful bid package and was awarded the opportunity to host the championship in Estevan.
The following is a summary of the positions that Mel held with Baseball Saskatchewan which include:
Zone I Director: 4 years (1994-1997)
Zone I Governor: 4 years (1998-2001)
Vice-President: 2 years (2002 & 2003)
President: 2 years (2004 & 2005)
Past President & Playoff Chairman:  years (2006 & 2007)
Mel was a coach with a true love for the game of baseball. Coaching was his way of providing a lifetime of memories for his athletes, fellow coaches, and volunteers. Despite his preference for coaching over building/improving diamonds and facilities, he took that hurdle in stride and enjoyed all parts of his involvement, creating high-quality facilities for his community to enjoy.
Mel was a leading factor for many of the mentioned achievements along with the volunteers who were willing to join his team and work hard to attain his goals. The various projects and hosted events could not have been attained without his leadership qualities and his excellent working relationships with the city of Estevan, the recreation department, and all the financial sponsors and volunteers he maintained throughout the years.
It was when he returned to the ballpark to watch his grandsons play in Estevan that he became very aware that the ballpark was in need of some serious attention. He returned as a volunteer and became involved with the president of Estevan Minor Baseball, Joe Williamson, who asked him to be a member at large. He was later asked to serve on the executive as Director of Facilities and Maintenance.
Over the past three years, he has done a complete maintenance upgrade to both ballparks in Estevan. The fields, grounds, fencing, lights and buildings all received upgrades. These facilities are now once again in prime condition to serve the community for several more years.
With the upgrades finished, Estevan was able to resume hosting provincials as well as Western Canada Championships. Mel was honoured in 2020, having Cactus Park in Estevan renamed 'Mel Murray Cactus Park'.
He also served as part of the committee which hosted Provincials in 2021, and in 2022 he was involved in hosting Provincials for three divisions in July, and in August hosting the Western Canada championships for three divisions.
Congratulations again to Mel for this exciting announcement!
By Haley Hayward
Now is your chance to save on our BIGGEST sale of the year and start filling those Christmas stockings!
At these prices, some items will not last long.
Happy Shopping!