Bantam Selects (Sask Summer Games)
The Bantam Selects Program was established in 1997 as a new initiative by the Baseball Sask Coach and Player Development Committee in order to identify future Team Saskatchewan Select players. Every year players were asked to tryout for their zone select team and then compete at the Bantam Select Tournament that is held the weekend after the August long weekend of every year. In 2002 the program expanded by naming the top players from the tournament to a Team Saskatchewan Developmental Camp. In 2003 was the first year for the annual Prospect Series vs Team Alberta. In 2006 the tournament was held during the September long weekend in Winnipeg at Canwest Global Park.
NOTE: This is a SHOWCASE tournament for our coaches to see the maximum number of kids in as many defensive positions as possible. The emphasis should not be on winning at all costs by the Zone Teams and more of allowing as many kids with an opportunity to be identified.
---
2016 BANTAM SELECTS
Please note that 2016 Bantam Selects will be held  July 24-27 in Estevan in conjunction with the 2016 Saskatchewan Summer Games.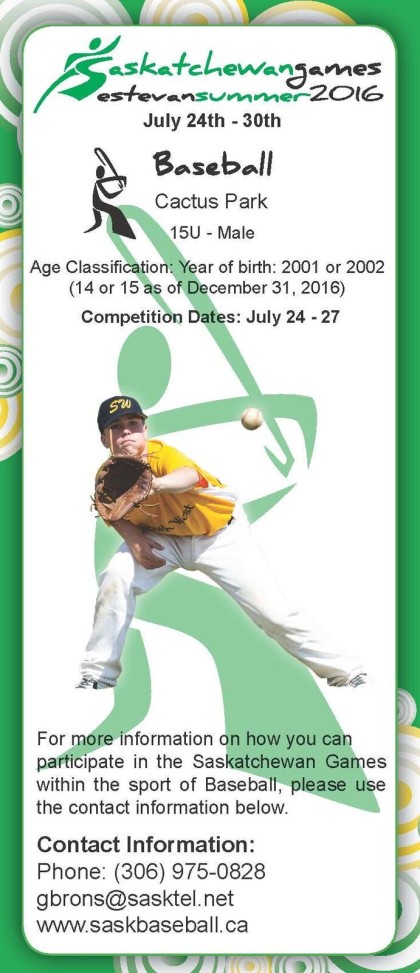 Please contact your Zone Governor for details on Team Selection.
2016 Tryout Dates:
Zone 1 (South East)
Sunday, May 29 – 1:00 PM (Registration at 12:30 PM)
Sunday, June 12 – 1:00 PM
Cactus Park in Estevan
$20 Tryout Fee
Please attend both dates
Contact Corey Krafchuk to register
Zone 2 (Regina)
Tuesday, June 7 – 6:00 PM (Registration/Warmup at 5:15 PM)
Wednesday, June 8 – 6:00 PM (Registration/Warmup at 5:15 PM)
Lions Park
$20 Tryout Fee
Please attend both dates
Contact Steve Klippenstein to register
Zone 3 (South West)
Sunday, May 29 – 2:00 PM
Tuesday, June 7 – 6:00 PM
Swift Current Bantam Diamond (19th Ave.)
$20 Tryout Fee
Contact Kevin Patenaude to register
Zone 4 (Parkland)
Sunday, June 12 – 1:00 – 4:00 PM PM
Monday, June 13 – 6:00 – 8:00 PM
Yorkton
Jubilee Diamond
$20 Tryout Fee
Contact Mike Farquharson to register
Zone 5 (Prairie Central)
Sunday, May 29 – 12:00 – 5:00 PM
Saturday, June 12 – 10:00 AM – 1:00 PM
2016 Zone 5 Bantam Selects Tryout Registration Form – Register no later than May 25
Martensville
$20 Tryout Fee
Initial Cuts to be made after 1st ID Camp (2nd ID Camp Invite only)
Contact Joey Vanneste to register
Zone 6 (Saskatoon)
Friday, June 10 – 6:00 – 8:00 PM
Saturday, June 11 – 12:00 – 2:00 PM
Nutana Diamond #1
$20 Tryout Fee
Please attend both dates
Contact Mike Lindsay to register
Zone 7 (Riverswest)
Sunday, May 29th – 12:00 – 8:00 PM
Lloydminster, SK
Wallace Field
$20 Tryout Fee
Contact Regan L'Heureux to register
Zone 8 (Lakeland)
Saturday, June 4 – 10:00 AM – 3:00 PM (Lunch break at 12 PM)
Registration at 9:30 AM
Melfort – Spruce Haven Park
$20 Tryout Fee
Contact Glenn McRae to register