Girls Baseball
2018 PEE WEE, BANTAM GIRLS & 21U WOMENS
Baseball Sask will be forming teams for the upcoming Pee Wee Girls Western Canada Baseball Championship in Spruce Grove, AB from August 16-19, the Baseball Canada Bantam Girls Championship being held in Bedford, NS from August 23-26 and the 21U Women's Invitational in Stonewall, MB from August 9-12.
The following Coaches have been selected for each of the teams:
Bantam Girls
Nathan Bourassa
Regina
NOTE: For information on Bantam Girls please contact Team Manager, Janice Shahsavar
Pee Wee Girls
Still looking for a Coach
21U Women's
Still looking for a Coach
---
2018 GIRLS BASEBALL TRAINING SESSIONS
Target Audience: Any female interested in playing baseball ages 11-21 welcome.
Goal: To recruit as many females as possible interested in playing baseball (some knowledge/experience in baseball, fastball, slo pitch is recommended). We are trying to promote girls baseball to encourage future participation and grow female baseball in Saskatchewan.
Winter Training Sessions:
1:00-3:00 pm: Sunday, March 11, 2018 (2 hours) = $20 to attend
1:00-3:00 pm: Sunday, April 15, 2018 (2 hours) = $20 to attend
@ Going Yard Training Centre in Saskatoon, 1902 Albert Ave, Saskatoon, SK Training sessions are open to all levels of ability.
Upcoming Opportunities to be part of Team Sask:
Pee Wee Girls 14U Western Canada Championship – Spruce Grove, AB, Aug 16-18, 2018 *Females born from 2004-2006 – Tryout date TBA
Bantam Girls 16U Baseball Canada Invitational Championship – Bedford, NS, Aug 23-26, 2018 *Females born from 2002-2004 – Tryouts Sun, May 13, 2018 in Saskatoon, time TBA
Women's 21U Baseball Canada Invitational Championship – Stonewall, MB, Aug 9-12, 2018 * Females born from 1997-2002 – Tryouts Sun, May 13, 2018 in Saskatoon, time TBA
For more info or to register for a training session, please contact Audrey at b.ski@sasktel.net. Send Audrey your email address and she will contact you as soon as all the tryouts times and locations are confirmed.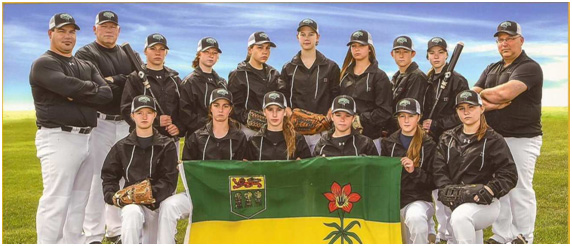 ---
To be eligible to participate in the Girls Program, all players must be registered with paid fees on a Baseball Sask membership registration form by the May 15th deadline. There will be no zone boundary rules to follow in forming the teams, meaning the team can be formed from players from across the province. There is also the chance that there will be more than one team registered and there may be a Provincial Championship to determine representative for Invitational or Nationals in the Pee Wee and Bantam divisions. Teams attending either of the Girls Championships will receive a travel grant from Saskatchewan Baseball that will help cover some of the travel expenses. This travel grant will be similar to the grant that other club teams receive who are attending a Western or National Championship representing Baseball Sask. The Coach or Manager will be responsible for all planning (i.e. tryouts, travel, accommodations, meals, etc.).
For more information on Girls Baseball travel grants contact Mike Ramage at the Baseball Sask Office at 780-9237 or email him at mramage@sasktel.net.