Return to Train and Play – COVID-19
We are very happy to announce that the Government of Saskatchewan
has now officially stated Phase 4.2 of the Re-Open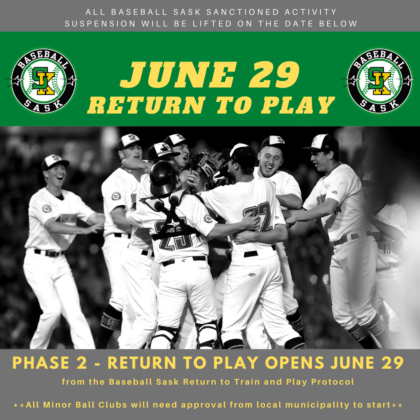 Saskatchewan Plan will open up on Monday, June 29, 2020. All of the conditions detailed on Page 78-79 of the Re-Open Saskatchewan Plan must be followed.
Although the Government has set this date, each Minor Ball Club will need to contact and receive approval first from their Municipality before getting on the diamonds and parks.
Please note that this will now open up both Phase 1 – Return to Train and Phase 2 – Return to Play of the Baseball Sask Return to Train and Play Protocol. This will allow members to schedule and play games, practice, train, hold registration and evaluate players for Team selection.
Under Phase 4.2, Tournaments and Inter-Provincial Travel to play games are NOT permitted. This means that teams are not allowed to leave Saskatchewan to play any games and out of province teams are not allowed into Saskatchewan to play games. Travel to games within Saskatchewan amongst Saskatchewan teams, however, will be allowed starting June 29th. 
Also detailed in Phase 4.2, it makes reference to Mini-Leagues needing to be formed with limited travel when social distancing cannot be provided in a contact sport. However, this does not apply to the sport of baseball as it is not a contact sport and social distancing is easily provided.
There are some Baseball Sask members that live just over Provincial borders and register as members to play in Saskatchewan on Baseball Sask teams. This is allowed as long as they are travelling directly to and from without making stops in between.
There was a waiver form emailed to all members already registered in the Ramp Online Registration System for 2020 that must be signed in order to take part in any Baseball Sask sanctioned activity. This form is also available on our website for those not able to sign it online.
Good luck to all communities able to start playing games as of June 29th. Batter up!
BASEBALL SASK RETURN TO PLAY GUIDELINES
Government Re-Open Saskatchewan Plan
Yours truly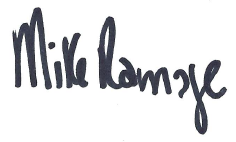 Mike Ramage
Executive Director
---
2020 Baseball Sask Registration Acknowledgement Waiver
All members will be required to sign off on the 2020 Baseball Sask Registration Acknowledgement Waiver in order to participate this season. This will need to be sign before stepping foot on a baseball diamond.
This Waiver was emailed to all members in the RAMP Online Membership System on Friday, June 19th. If you are not yet registered in RAMP, you will need to sign it when you register.
Please see below a PDF copy that can also be used:
2020 Baseball Sask Registration Waiver
---
Return to Train Checklists to Assist Members Start 2020 Program
The following checklists can be used along with the Baseball Sask Return to Train and Play Protocol:
Coach Checklist – Return to Train
Player Checklist – Return to Train
Parent and Spectator Checklist – Return to Train
Ball Park Maintenance Personnel Checklist – Return to Train
---
Baseball Park Signage Available to our Membership
Baseball Sask has created some signage that can be utilized by our Membership to help promote requirements as detailed in the Baseball Sask Return to Train and Play Protocol.  These signs may be used by Baseball Associations and Parks who host teams registered with Baseball Sask. Feel free to print off as many as you need!
Physical Distance – Version #1
Physical Distance – Version #2